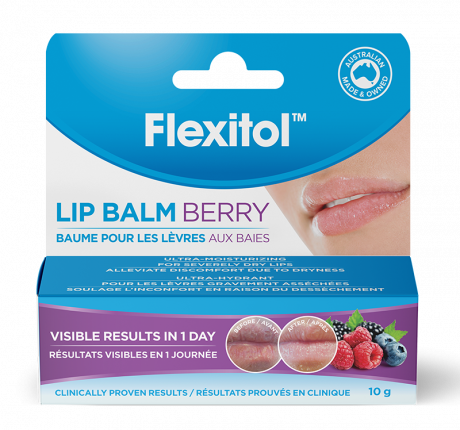 Flexitol Lip Balm Berry flavour is a concentrated formula specially designed to hydrate and soften severely dry lips.
Ultra moisturizing
Visible results in 1 day
Alleviates discomfort due to dryness
Always read the label and follow the directions of use.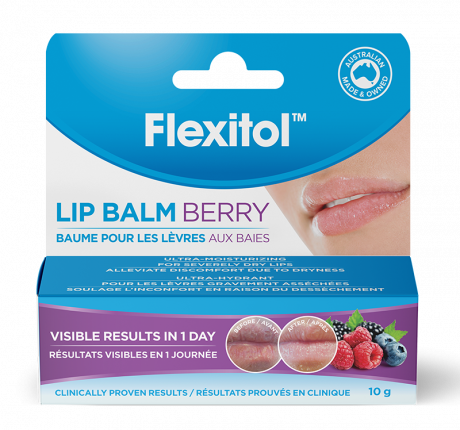 Flexitol's Lip Balm Berry concentrated formula contains a synergistic blend of ingredients designed to hydrate and soften severely dry lips, keeping them smooth and healthy looking.
Flexitol's Lip Balm Berry concentrated formula contains a synergistic blend of ingredients designed to hydrate and soften severely dry lips, keeping them smooth and healthy looking.
< Read Less
Aus Made & Owned

Clinically Tested

Visible Results

Paraben Free
Apply liberally to affected area 3 to 4 times daily. Suitable for adults and children over 3 years of age.
Petrolatum, Aqua, Theobroma Cacao (Cocoa) Seed Butter, Lanolin, Behenyl Alcohol, Glyceryl Stearate, Stearic Acid, Urea, Flavour/Aroma, Cetyl Esters, Palmitic Acid, Cetyl Alcohol, Lauryl Alcohol, Myristyl Alcohol, Lecithin, Camphor, Menthol, Rebaudioside A, Eugenia Caryophyllus (Clove) Leaf Oil, Potassium Sorbate, Sodium Benzoate, Eugenol
Research1
Methodology
Over a consecutive 3 day period, 12 male and female subjects between the ages of 19 to 44 applied Flexitol Lip Balm on their dry lips four times a day. This test was performed to measure whether there was an increase in hydration levels and was determined by using a Corneometer on days 0, 1 and 3.
Results
The mean values of the Corneometer were analyzed statistically using an analysis of variance (ANOVA). The results indicated a positive increase in the moisture level of the lips using the Flexitol Lip Balm.
Note: The above results are from a study commissioned by LaCorium Health and conducted at the Australian Photobiology Testing Facility in Sydney.
Research 2
Methodology
In a controlled trial, nurses assessed subjects suffering from dry, cracked lips as a direct side effect of strong medications, such as specialised acne treatment and drugs used for Chemotherapy, that were tested on with a Lip Balm. The trial was conducted to measure the effectiveness of the Lip Balm, 20 male and female subjects were provided with a questionnaire to complete the trial.
Subjects rated the detailed effect of the Lip Balm on each of the symptoms using a 7 point scale (1: no effect and 7: great improvement)
Results
The results showed that all 20 subjects reported improvements on the conditions of their lips and found the product to be very effective. It was also reported that they would continue to use the product and recommend it to others.
The nurses who assessed the subjects saw the effectiveness of the lip balm and attest that the product is effective in improving very dry lip conditions of patients.
You might be also interested in
English Translation: "A single application to my cracked, dry, itchy, chapped lips.
Finally this flexitol lip balm. Had a most perfect result."
Manon, Quebec
This has been a game changer!! I use it several times a day and have a tube
through out my house, in my purse, in my car. I've told my doctor about it,
so he can recommend it to patients with severe chapped lips.
Karen Mercer, Texas
I can not express enough how much this lip balm literally changed my life.
I'm on accutane and I could not smile, laugh, eat a sandhwich or remotely open my mouth
UNTIL I FOUND THIS PRODUCT. It is honestly like my lips are back to normal and
enduring these next 4 months will be a breeze thanks to THIS LIP BALM.
Ashlyn, Louisiana
I was suffering with a swelling and itchy eyelid – I spotted this cream at a Flexitol
display in London Drugs, and decided to give it a try. Just shy of two weeks later, the eyelid
is no longer swollen, the dry skin is almost gone, and I feel like an attractive human again.
Thank you for this product, thank you for keeping it at an affordable price.
Naomi Williams, Alberta
As featured in
The Flexitol brand and products have been featured in a wide variety of media and publications including those featured here. Follow the link to our in the media page where you can read a collection of media articles covering a variety of products from our extensive range.



Discover us in the media