Very dry skin, or 'Xerosis', as the professionals call it, can be caused by hot or cold weather (go figure!), a lack of moisture, or even soaking in hot water. There's a lot you can do to improve very dry skin on your own, but in some cases you might need to consult a skin doctor (dermatologist). Flexitol's range of products for very dry skin have unique keratolytic properties, which help with dead skin disposition and removal.
View products
Discover how we can help
People who have this condition have found these products to be helpful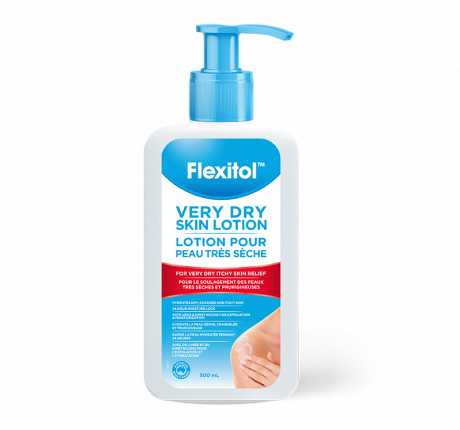 Very Dry Skin Lotion
Flexitol Very Dry Skin Lotion provides optimum hydration and protection for your skin.
Hydrates dry, cracked and itchy skin
24 hour moisture lock
Australian made & owned
Buy Online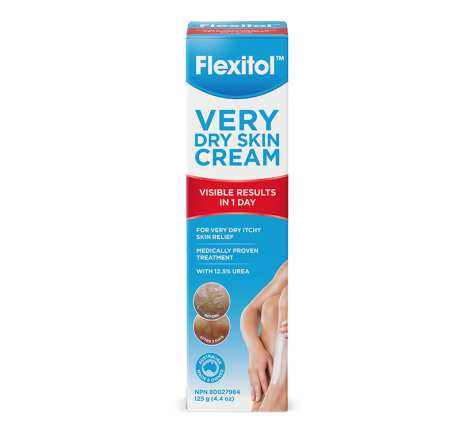 Very Dry Skin Cream
Flexitol Very Dry Skin Cream has been clinically proven to increase skin hydration by 52% in 2 weeks.
Suitable for use on Psoriasis
Visible results in 1 day
Buy Online
It feels amazing! My skin has been so dry with this winter weather. It soaks right in!
Thank you! Thank you! Will definitely purchase and recommend!!!
Cynthia Hutchings, Missouri
A single application to my cracked, dry, itchy, chapped lips.
Finally this flexitol lip balm. Had a most perfect result.
Manon, Quebec
I was suffering with a swelling and itchy eyelid – I spotted this cream at a
Flexitol display in London Drugs, and decided to give it a try. Just shy of two weeks later,
the eyelid is no longer swollen, the dry skin is almost gone.
Naomi Williams, Alberta
I am amazed at how fast this works. I have tried several other products in addition to using
a foot file to soften my heels which had become hard and dry. This is the only product
that has truly worked. I have noticeda HUGE difference in my heels just after 2 days.
Wendy Beeson, California
This is amazing!! It should be a crime to work so well!!
Sharon L Ward, Pennsylvania
FAQ
Very dry skin can be caused by extremely harsh and dry weather conditions, side effects of certain medication, the effects of disease, or associated skin disorders like ichthyosis, eczema and psoriasis. Ironically, very dry skin can also be caused by a lack of moisture or too much moisture (such as soaking in a hot bath for too long).
If your skin is dry and scaly to touch, with visible cracking on the skin's surface, or if you seem to be itching a lot.
Some of the best ways to treat dry skin through ongoing self-care are to take shorter, cooler showers or baths, moisturise daily (with the right stuff!) and use intensely moisturising, non-irritating products. The best approach is to use a soap- and sulfate-free wash for cleansing and a concentrated, non-greasy moisturiser. Flexitol has a range of clinically tested and award-winning creams, washes and lotions that will have your skin feeling smooth as a baby's… you know what.
Very dry skin is not contagious and isn't usually caused by infection. In rare cases, very dry skin can be caused by liver disease or diabetes, but most of the time it's a cause of environmental or lifestyle factors, or existing skin conditions such as eczema.
It might seem strange, but using some oil products can actually cause very dry skin. Watch out for oil products that have fragrances or added things in them that could be causing irritation, hence making your skin even more dry.
Browse our products