Sensitive skin can be caused by excessive dryness, or a range of skin conditions like eczema, psoriasis or dermatitis. When your skin is sensitive, it means the nerve endings in the top layer of your skin are irritated. Even though it's not a medical diagnosis in itself, sensitive skin is usually the symptom of another condition, and can feel super uncomfortable.

View products
Discover how we can help
People who have this condition have found these products to be helpful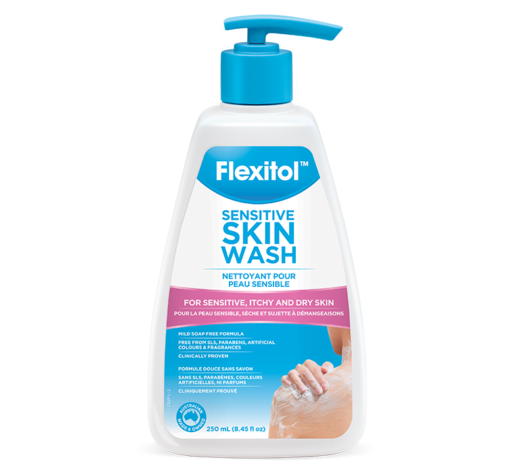 Sensitive Skin Wash
Flexitol Sensitive Skin Wash is a mild and effective soap-free formula that thoroughly cleanses, without stripping the skin of its natural oils.
Free from soap, SLS, petrochemicals, parabens & fragrances
Gentle & non-irritant
Australian made & owned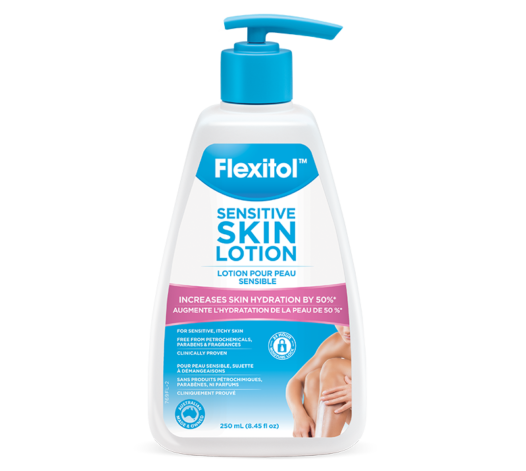 Sensitive Skin Lotion
Flexitol Sensitive Skin Lotion is an intensive gentle moisturizing lotion designed to deeply nourish and hydrate sensitive skin.
Increases skin hydration by 50%
Free from petrochemicals, parabens & fragrances
Australian made & owned
I appreciate your products. I would like to thank you for your attention to my request
and congratulate you on the quality of your products.
Annie Lapalme, Quebec
This is by far the best heel cream on the market! My mom's foot Dr. recommended this
and it has been a game changer! Painful cracks soothed &healed in a couple days time.
Lindsay Supple, Rhode Island
I was suffering with a swelling and itchy eyelid – I spotted this cream at a
Flexitol display in London Drugs, and decided to give it a try. Just shy of two weeks later,
the eyelid is no longer swollen, the dry skin is almost gone.
Naomi Williams, Alberta
I have been using Flexitol Heel Balm for the past two years, it is the best
product I have ever used. My heels no longer cracked and get sore. Thank you for
creating such a wonderful product.
Penny Patterson, Texas
I came across your heel balm and tried and I'm
blown away. So I just wanted to share my positive review that this product
made a difference for me.
Amna farooq, Alberta
I had never achieved any noticeable improvement until I purchased and
started using your heal balm. Finally some relief and marked improvement with
my heel issues. Thank you for developing and making this treatment available to
all of us that have suffered way too long.
Julia York, Tennessee
This is amazing!! It should be a crime to work so well!!
Sharon L Ward, Pennsylvania
FAQ
Sensitive skin can range from mild to severe recurring symptoms. If you experience stinging, burning, itchiness or redness after touching or using certain skin care or household products, your skin could be mildly sensitive – and we bet it sometimes doesn't feel so mild! To diagnose, what the experts are looking for is more serious reactions such as pustules, skin bumps or skin erosion, very dry skin, or a tendency toward blushing.
Sensitive skin can be caused by skin disorders or conditions such as eczema, rosacea, dermatitis or psoriasis. Other causes of sensitive skin are dry air, long, hot showers and baths, soap, itchy clothing, medication, and the already mentioned medical conditions.
Sensitive skin isn't technically a condition; it's more of a skin type or a symptom of another skin condition, like eczema. Genetics can play a role – so if people in your family have sensitive skin, you're more likely to experience it too. Interestingly, your age, gender and race can also affect sensitive skin conditions.
The best skin care for sensitive skin happens in a two-step process: cleansing and moisturising. Most dermatologists recommend using soap-free cleansers and skincare products specially designed for sensitive skin. For cleansing, use a soap- and sulfate-free wash to ensure that it is non-irritating to the skin, and for moisturising, use a concentrated, non-greasy moisturiser that's free from fragrances and petrochemicals. We have a range of clinically tested products available for sensitive skin conditions that are approved and recommended by dermatologists nationwide, so you can feel confident knowing you're in good hands. See here for options.
Looking for a quick fix for sensitive skin? It's a good idea to avoid products with strong fragrances, detergents, or soap. The best thing to do when using a new product is to test a small patch of skin first, possibly for a few hours, to make sure you're not experiencing a reaction. Patience is a virtue, as they say! Other lifestyle changes you could consider include: avoiding triggers, try using a humidifier, establish a healthy sleep schedule and experiment with de-stress methods like meditation.
Most children with sensitive skin conditions, such as eczema, tend to grow out of it by the age of 5 or 6. If both parents have eczema, their children are 80% likely to also have eczema from early childhood.
Browse our products